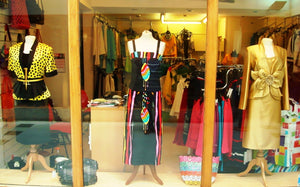 From Car Boot to Fashion Empire
The Beginning
Cecilia was born in Zimbabwe and moved to the UK with her family in 2002. She had always sold clothes from her car boot, and when she moved to the UK, she saw it as an opportunity to finally start a business full time.
After completing her MBA, Cecilia started Cerrura Fashions in 2007 on Fonthill Road, a well-known street for shopping.
The Challenge
Despite facing challenges such as self-doubt, lack of visibility and resources, rent and council arrears, and being the only black-owned business on Fonthill Road, many people did not believe that Cerrura Fashions would survive.
Despite facing many challenges, Cecilia and her team persevered, driven by their faith in God and constant encouragement. Theycontinued to provide unique and one-of-a-kind pieces that you wouldn't typically find on the high street.
As a result, Cerrura Fashions has become a popular destination on Fonthill Road for unique Mother of the Bride and elegant formalwear.
The Growth
Cerrura Fashions has continued to grow from strength to strength. In 2017, they opened a second store in Walsall, West Midlands.
In 2022, they had a pop-up shop in John Lewis Milton Keynes, where they impressed customers with their unique and elegant formal wear for men and women.
In 2023, Cerrura Fashions was featured on ITV, and celebrity Vanessa Feltz wore their dresses on This Morning and Celebs Go Dating.
If you or someone you know is looking for unique and elegant formal wear, browse our website to see what Cerrura Fashions has to offer
As Seen On